This sweet dairy-free cornbread is another longtime staple in our home. It's an easy and delicious recipe for cornbread without milk. My son loves it so much that I made it almost weekly as my kids grew up, to go with meals or for a snack (and he doesn't have any issues with dairy …). If any was left, we'd slice a piece in half and toast it for breakfast the next morning (YU-UM!) Get the recipe for this easy sweet dairy-free cornbread (and watch the recipe video) below!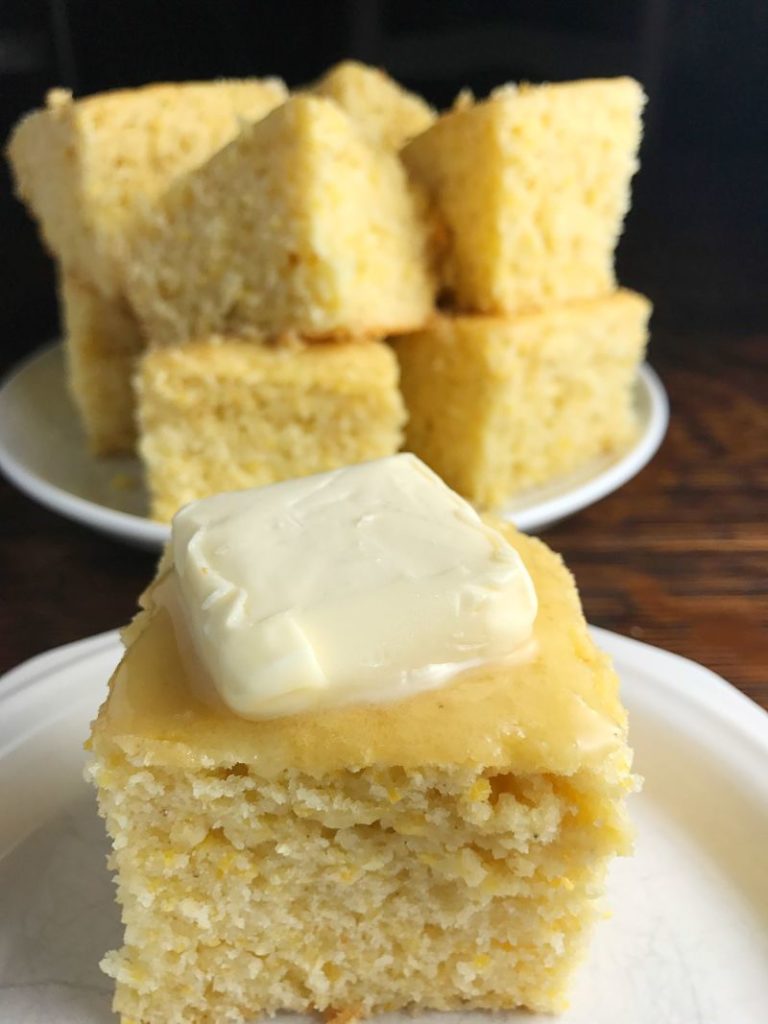 Sweet Dairy-Free Cornbread: Just What the Dr. Ordered
While I was pregnant with my daughter (20+ years ago), I had a lot of sinus problems and, after she was born, I suffered from a severe sinus infection for 6 months. Antibiotic after antibiotic was prescribed, and the sinus infection not only held on, but it intensified. After x-rays and a cat-scan offered no clues as to the root cause, my doctor finally referred me to an allergy specialist.
A skin prick allergy test resulted in several raised bumps, but none so significant as one …
The kind allergy doctor delivered the bad news: I was really allergic to cow's milk. And then he handed me a long list of everything I had to avoid. What the heck was casein, whey, nonfat dry milk? And what was it doing in every darn cookie, cracker and even hamburger bun I may ever want to eat!? Not to mention no more milk, cheese, sour cream, ice cream or every dessert, appetizer or casserole dish I ever made.
I was a half a gallon of milk per day kind of kid, cheesecake was my favorite dessert and the only thing better than cheese was MORE cheese.
I had to, basically, throw most of my favorite recipes (and half my pantry and refrigerator contents) out the window. Grocery shopping suddenly took 3 hours, thanks to my new hobby: reading food product labels! During the next Christmas shopping season at the mall, hunger drove me to the food court. As I looked around, I couldn't find anything I could eat. I sat down and cried. The only upside? I had no problem losing my pregnancy weight.
The Internet was in its early stages, so recipes and substitution suggestions were not easily accessible. Neither were the products we have readily available today. Rice milk (which I could only find at the health food store at the time), oil or margarine were my main substitution options.
Can You Make Cornbread Without Milk?
YES!
Somewhere (I can't remember where), I found a recipe 20+ years ago that I scribbled onto a note card for cornbread that just happened to be dairy-free. It was like manna from heaven! Something warm and delicious and typically full of milk that I could eat!! And my family loved it too.
Over the years, I changed it up, experimenting with more of this … less of that, and the result is the sweet dairy-free cornbread recipe below (which is also soy-free). I have made it, quite literally, hundreds of times at this point in my life.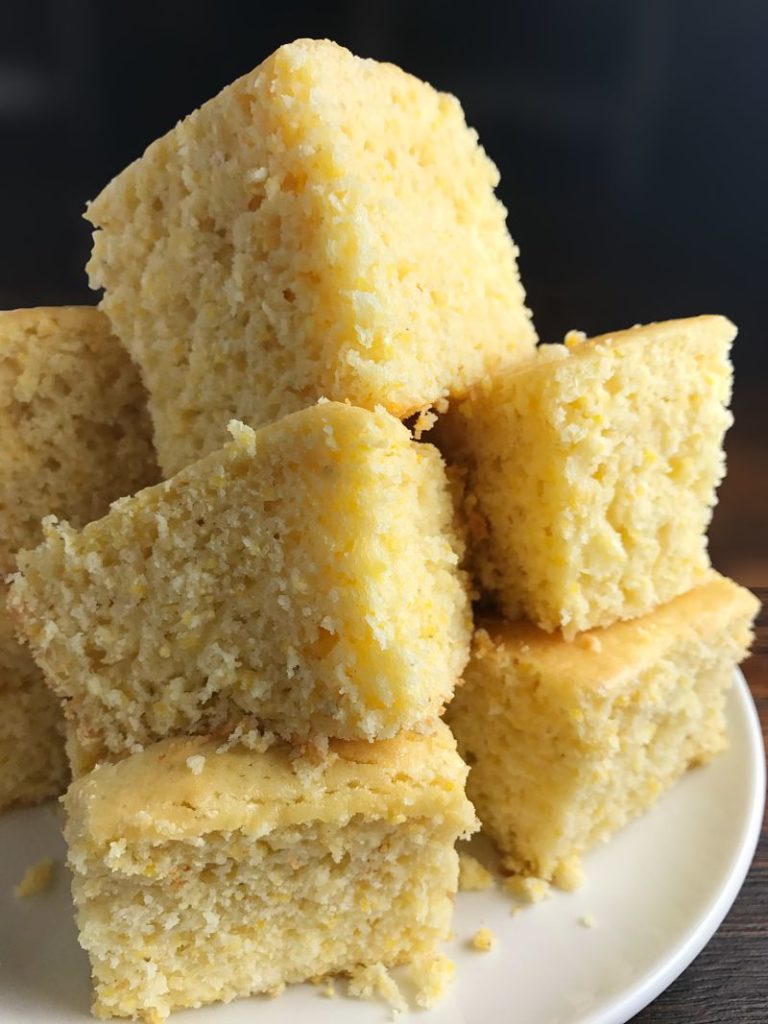 Only my daughter and I have issues with milk (no one else in my family does), and they all prefer this sweet dairy-free cornbread over the traditional buttermilk or other dry kind of cornbread. It's moist, sweet and cake-like (more like cornbread from Boston Market, if you've ever had that). It's best enjoyed fresh out of the oven with a little butter (vegan butter, in my case). We also like to eat it with vegetable turkey chili or for breakfast, cutting a piece in half and then toasting it in our toaster oven, topping it with blackberry jelly or my homemade jalapeno cinnamon plum jam.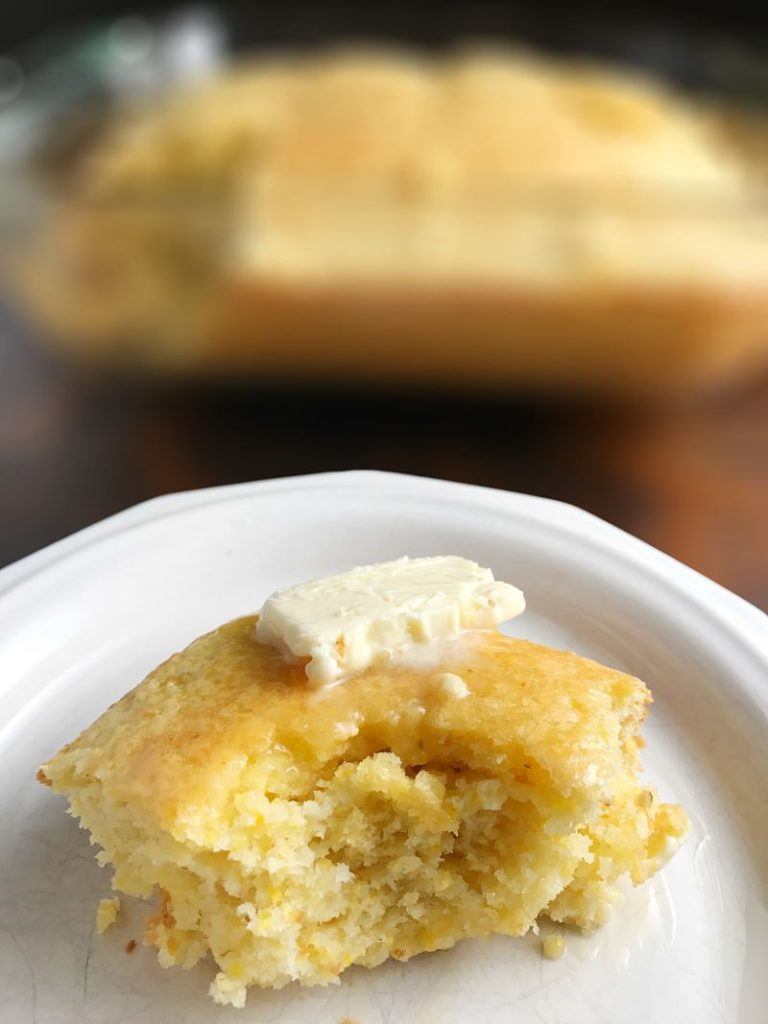 An important thing to note: you can use any kind of corn meal for this recipe, but organic yellow corn meal really makes it taste the best. I have experimented with all kinds of variations with the corn meal, sugar, flour, etc. and what matters most is the corn meal. The organic corn meal is coarser and gives the cornbread a slightly nutty texture. Give it a try!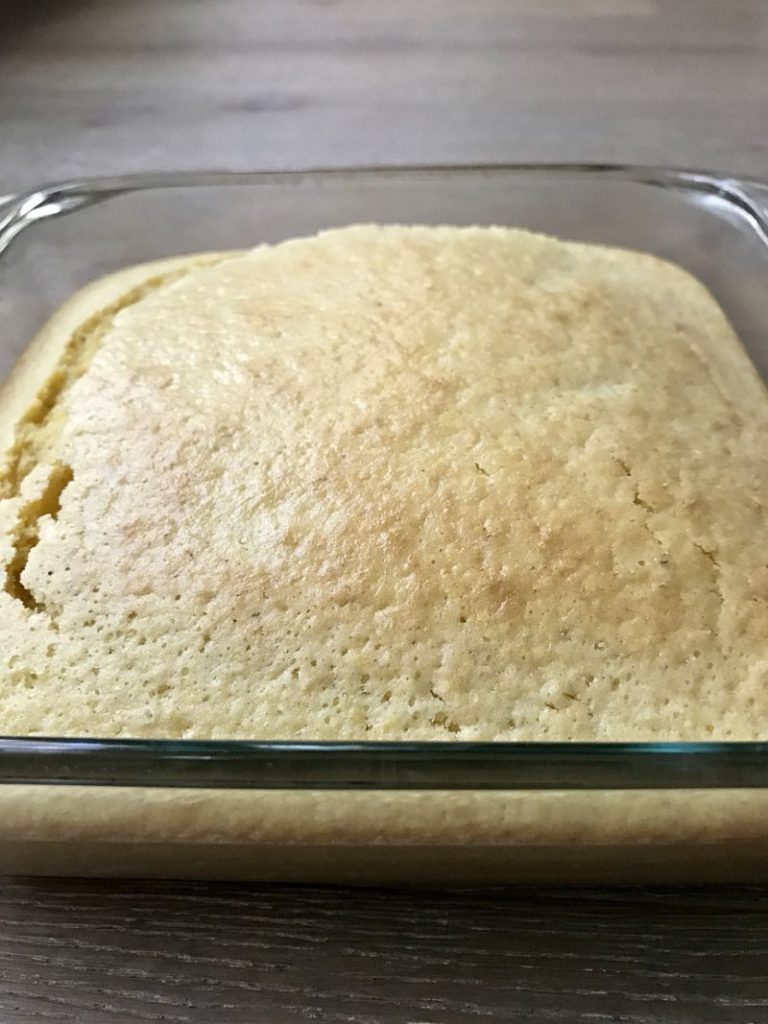 Make Cornbread Muffins and/or Jalapeno Cornbread
Sometimes, I want cornbread in muffin form. There isn't much difference – except baking them in a muffin pan takes a little less time (about 15 minutes), and they're little easier to transport when you're on the go.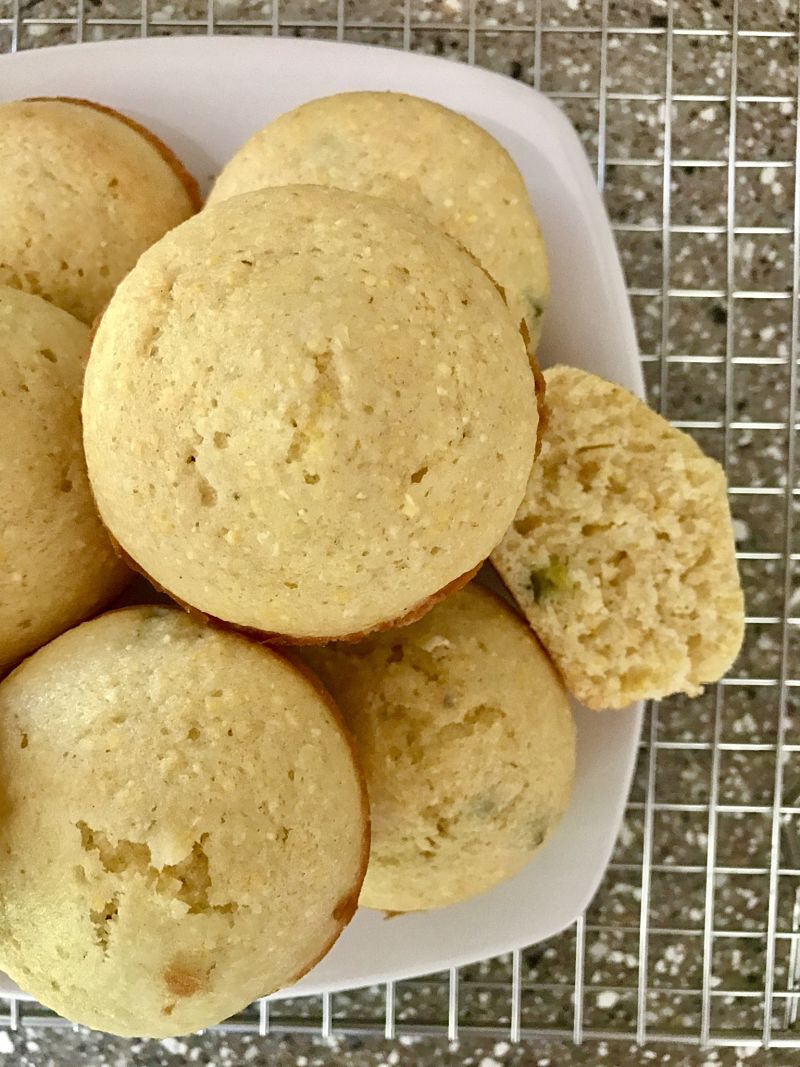 You can also add some finely chopped jalapenos to your batter to make jalapeno cornbread. And there's nothing better than a piece of cornbread or a cornbread muffin toasted the next day for breakfast!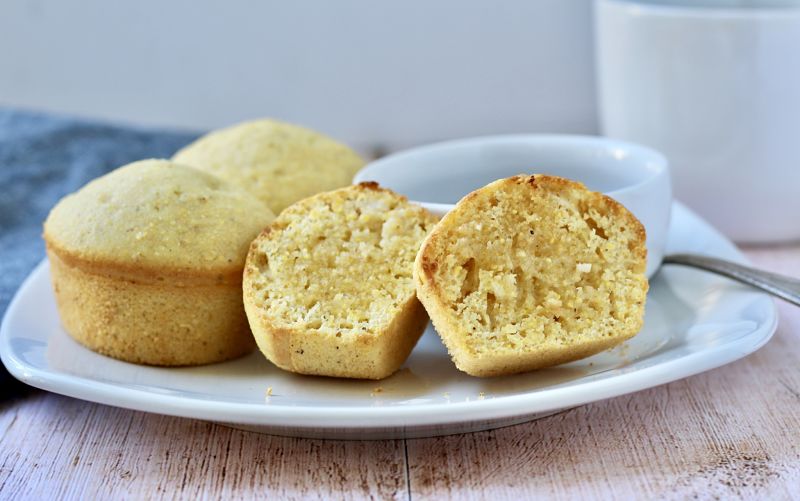 Watch how easy it is to make this homemade dairy-free cornbread! 🙂
Pin it/save it and make it! And let me know if you have any questions or comments. If you make it, please let me know and tag Kitchen Gone Rogue (you'll make my day!!)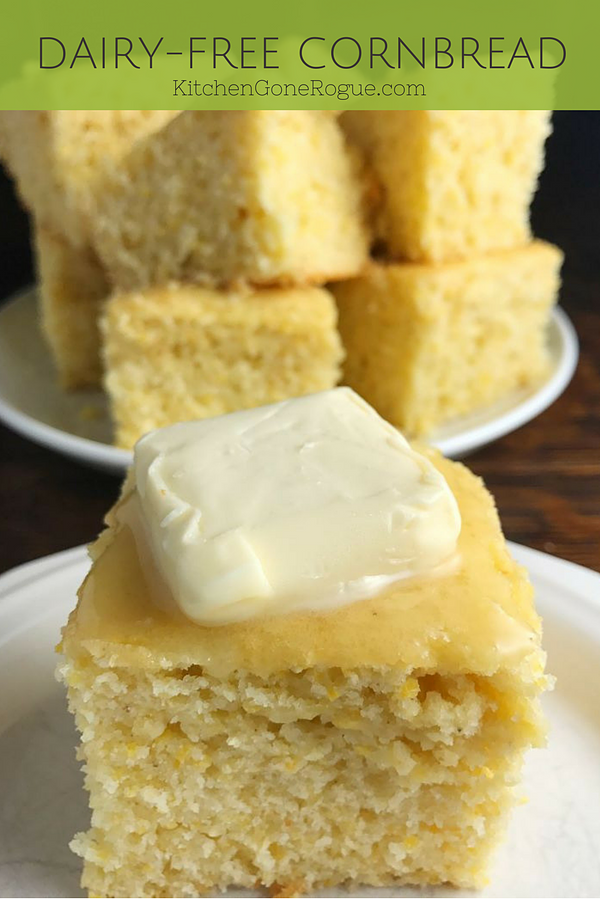 Want more recipes from Kitchen Gone Rogue? Sign up for my enewsletter. Spam isn't cool, and I promise not to spam you or share your email with anyone!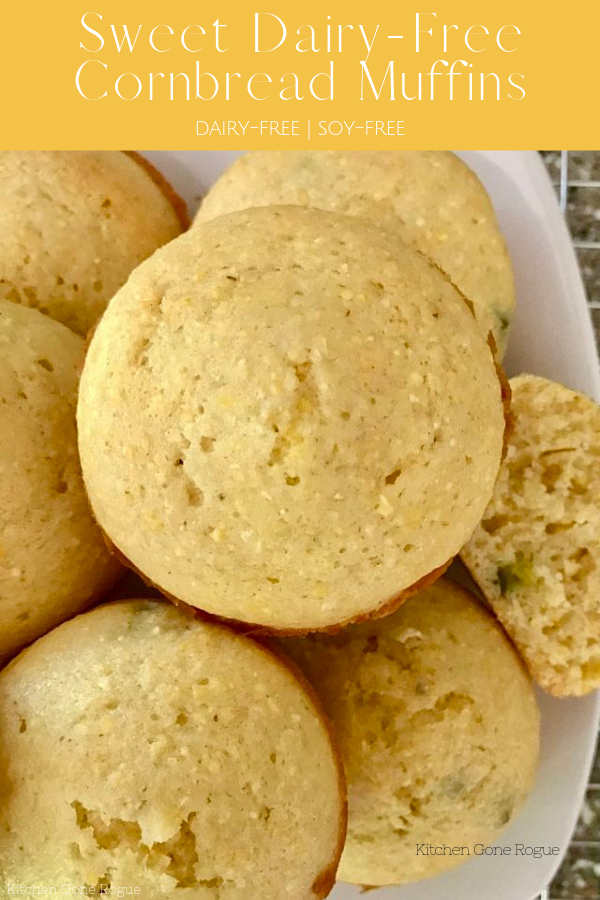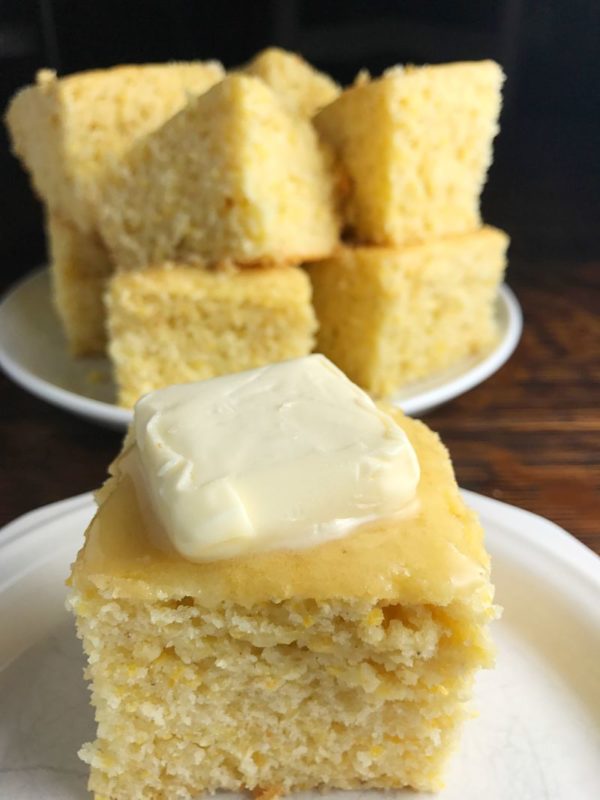 | | |
| --- | --- |
| | |
Preheat oven to 400 degrees F and lightly grease the bottom of a 9x9 glass baking dish

Mix all of the dry ingredients

Add the water, oil and eggs; mix well

Add to the baking dish and bake for 25 minutes (15 minutes if you're making muffins)

Let it cool a little, cut and enjoy!
Looking or other bread recipes? Check out these other favorite Kitchen Gone Rogue Recipes:
© Kitchen Gone Rogue. www.kitchengonerogue.com