Thai meets Italian in this soothing and spicy Red Thai Curry Gnocchi recipe. This delish dish is comfort food with a kick, and it's super fast and easy to whip together. It's also gluten-free and vegan (dairy-free and no meat products)!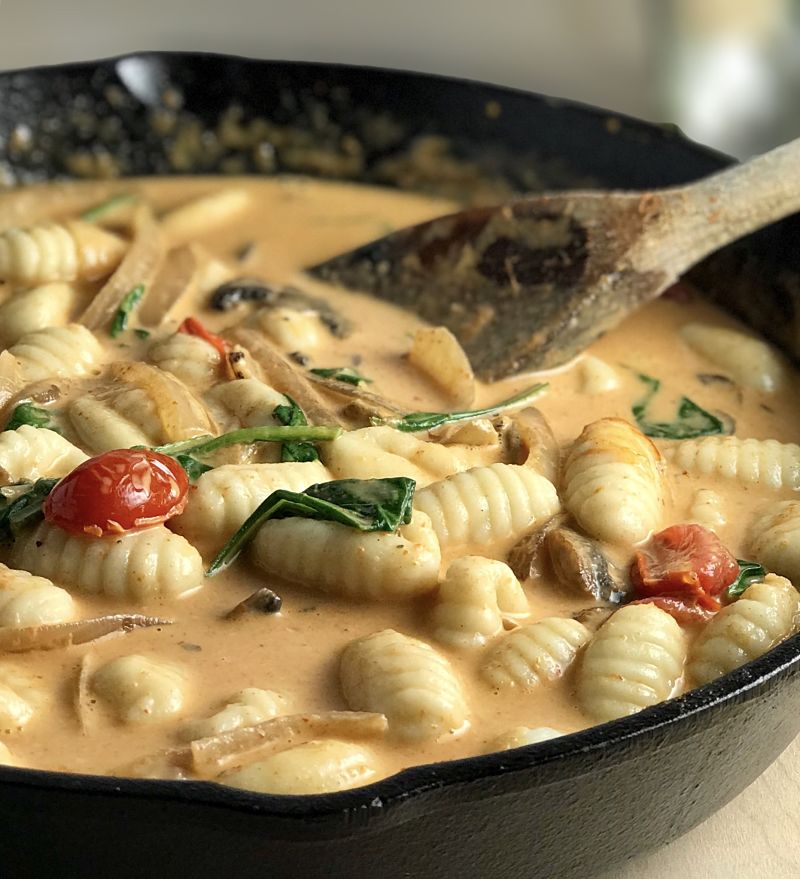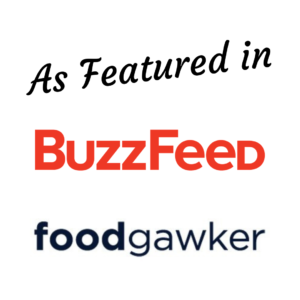 I was inspired to create this recipe after Caesar's Kitchen sent me a sample of its frozen gnocchi to test. It's vegan, gluten-free, and the company has been run by the same family for over 50 years … so I had to give it a try! My first thought for gnocchi is something Italian. But that's been done. And I've been craving Thai food lately, so I thought: why not do a Thai-Italian mash up? And voila! (just to throw some French in there) 😉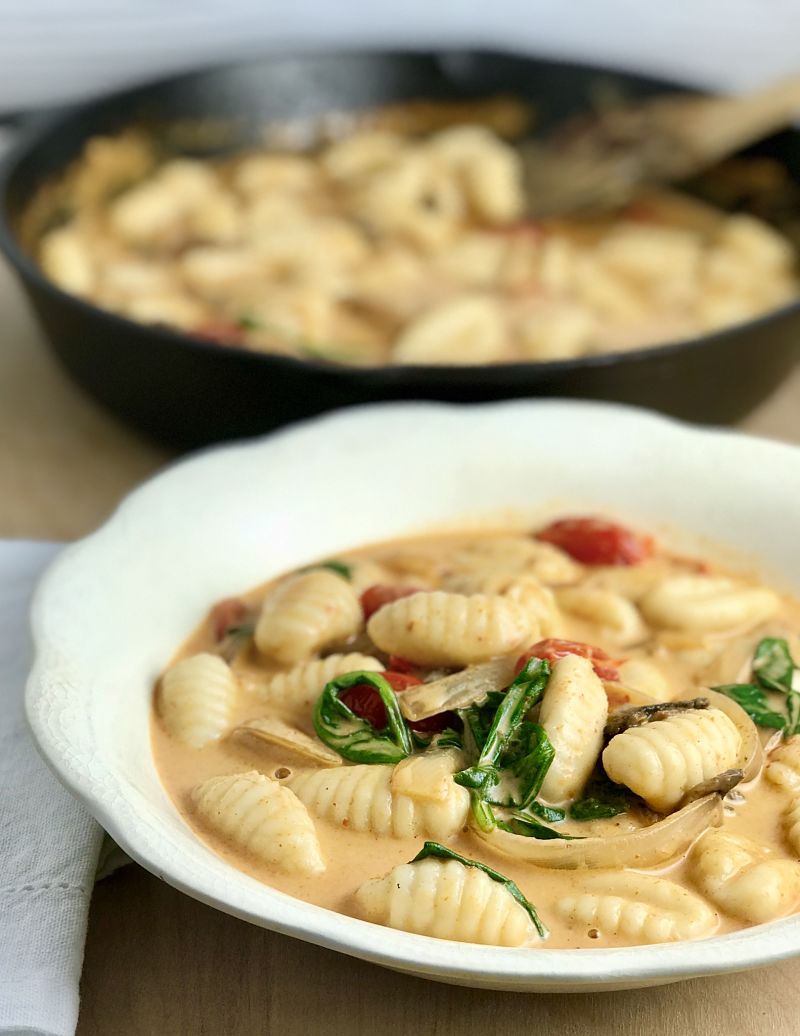 The night I created this recipe, I wasn't feeling well. It was cold and damp, and my sinuses were complaining. This Red Thai Curry Gnocchi didn't take much time or effort to make and brought soothing, flavorful sinus relief. It was the perfect elixir for body and soul.
You can make your own red thai curry paste … but I like to keep this recipe fast and simple by using this gluten-free red curry paste.
This Red Thai Curry Gnocchi is so easy to make that I only have one helpful hint for you with this recipe: if you're like me and get distracted easily, set a timer for 2 minutes after you put the gnocchi in the salted water to boil. They'll only take 2-3 minutes to cook, and you'll know they're done when they pop to the top. I love it – no guesswork there! BUT … if you let them sit there too long because something drew your attention away for a few minutes, you'll have some mushy gnocchi on your hands. Been there, done that. Luckily, I followed my own advice this time.
If you're looking for another gnocchi recipe, you can also try my Easy Gnocchi with Sun Dried Tomatoes, Spinach and Bacon.
OR my Vegan Pan-Fried Gnocchi with Mushroom Cream Sauce!
NOTE: most potato gnocchi contains wheat. If you're eating gluten-free, read the ingredients to make sure it's a gluten-free gnocchi.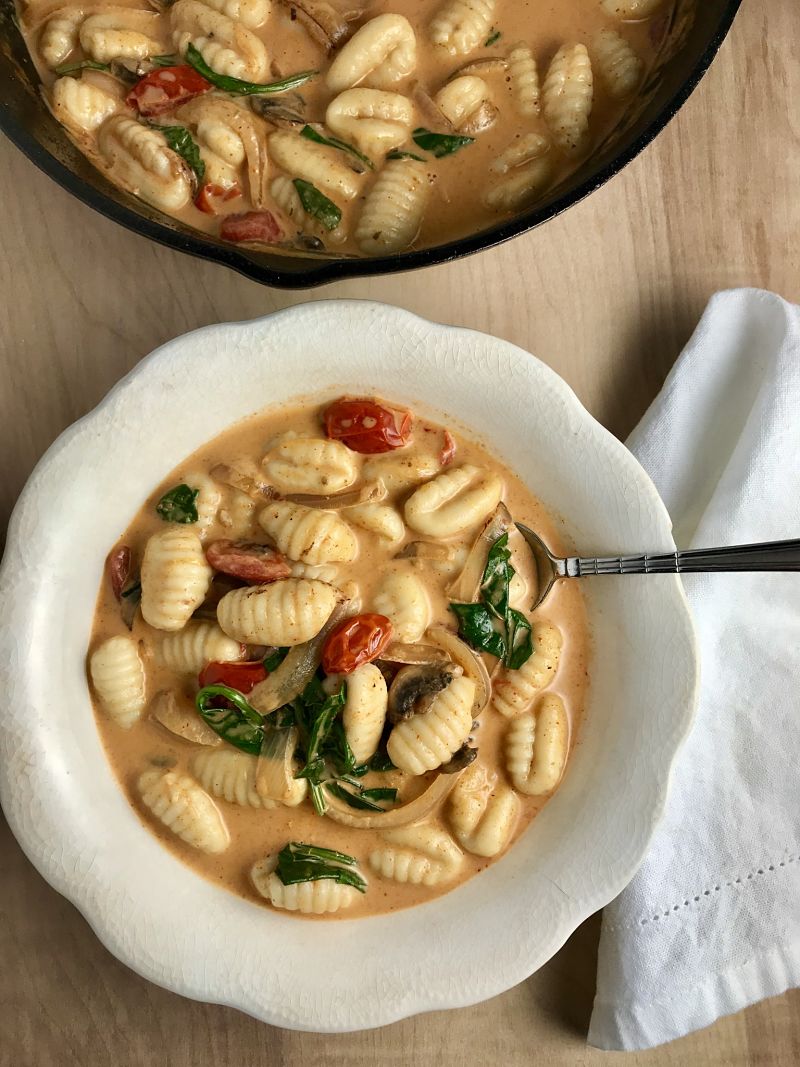 I make this in my cast iron skillet, but any skillet will work. If you're in the market for a cast iron skillet, Amazon has the 10-inch Lodge one majorly on sale right now! It's normally $26.68, but it's on sale for $11.32 (as of Jan 29, 2018)!
Here's a one-minute recipe video for this red thai curry gnocchi. It's the most popular recipe on this site … so I decided it needed a little video. And who says a watched pot doesn't boil!?
Pin/save this recipe and let me know if you make it! That always makes my day!!
And if you want more Kitchen Gone Rogue recipes, sign up for my newsletter below. Spam isn't cool, so I promise not to share your email!!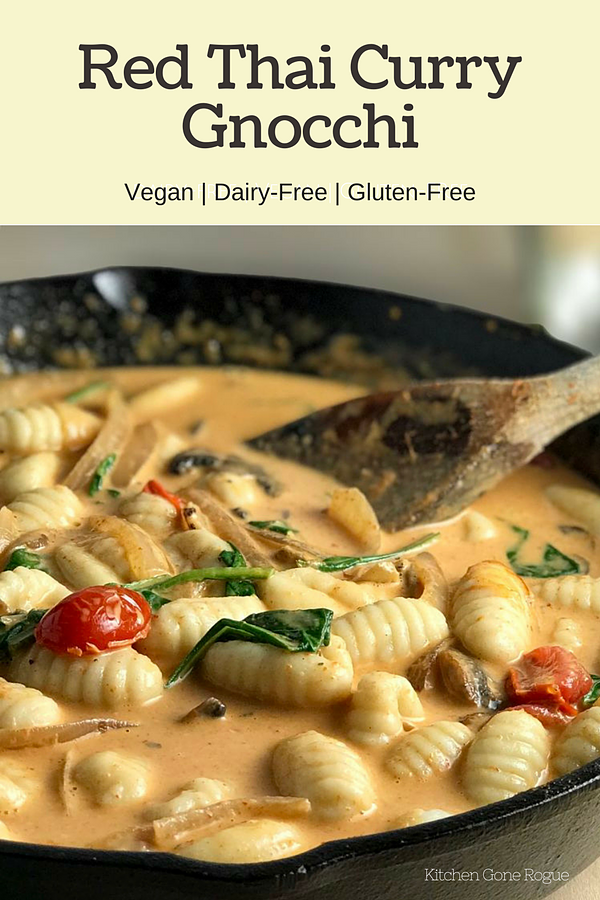 Looking for More Easy, Delicious Vegan Recipes?
Red Thai Roasted Cauliflower Steaks
Vegan tomato basil soup (it's whole30-compliant too!)
Orange Chocolate Mocha Skillet Cake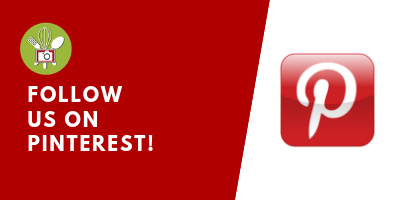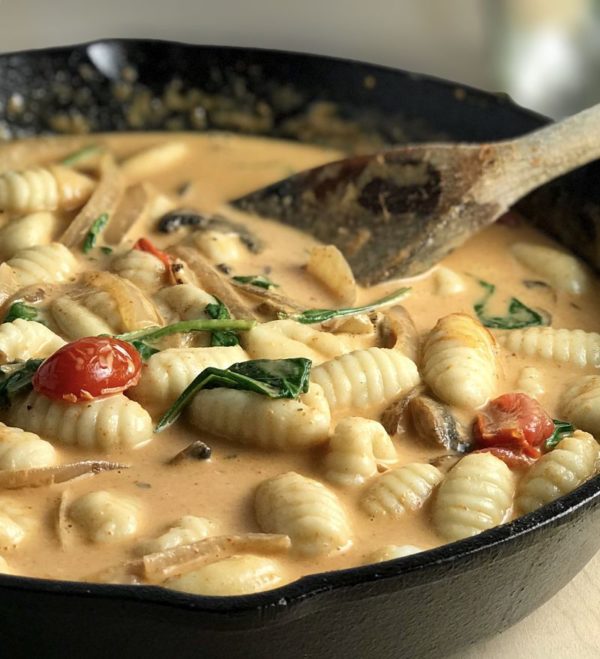 | | |
| --- | --- |
| | |
Bring a pot of salted water to a boil

While you're waiting for the pot to boil, wash and cut veggies

In a medium-large skillet, saute the sliced onions and minced garlic in 2 Tbsp olive oil for 2-3 minutes

Add mushrooms; saute until oil absorbed

Add tomatoes and saute for 2 minutes

Add gnocchi to your now boiling pot of water and cook per package's instructions (typically you boil 2-3 minutes, until it pops to the top of the water)

Add full can of coconut milk and then stir in sugar and soy sauce

When gnocchi is done, drain and then add to finished sauce. Stir, serve and enjoy!