What's better than fresh plums you just picked from your own yard? Not much, except perhaps Easy Jalapeno Cinnamon Plum Jam with those plums!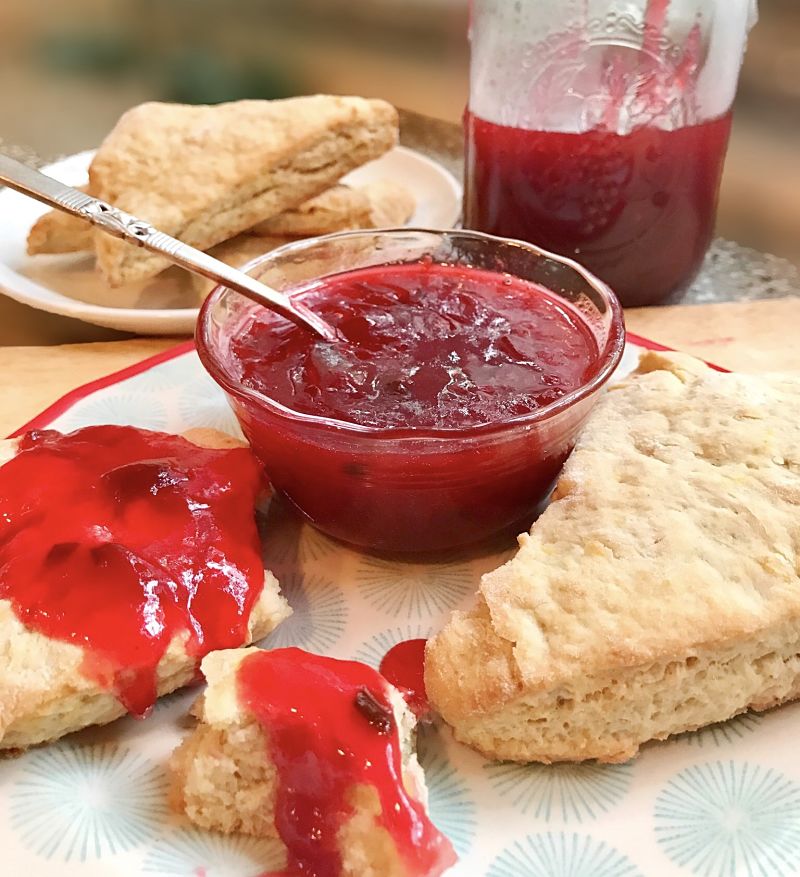 Plums haven't always been among my favorite fruits. That changed two years ago, thanks to the previous owner of our home who planted a plum tree that produces sweet, flavorful plums every other year.
The first year, the squirrels nabbed more than their fair share. This year, I beat them to the punch. It's a good thing, because the morning after I picked 90% of the plums, the rest had disappeared.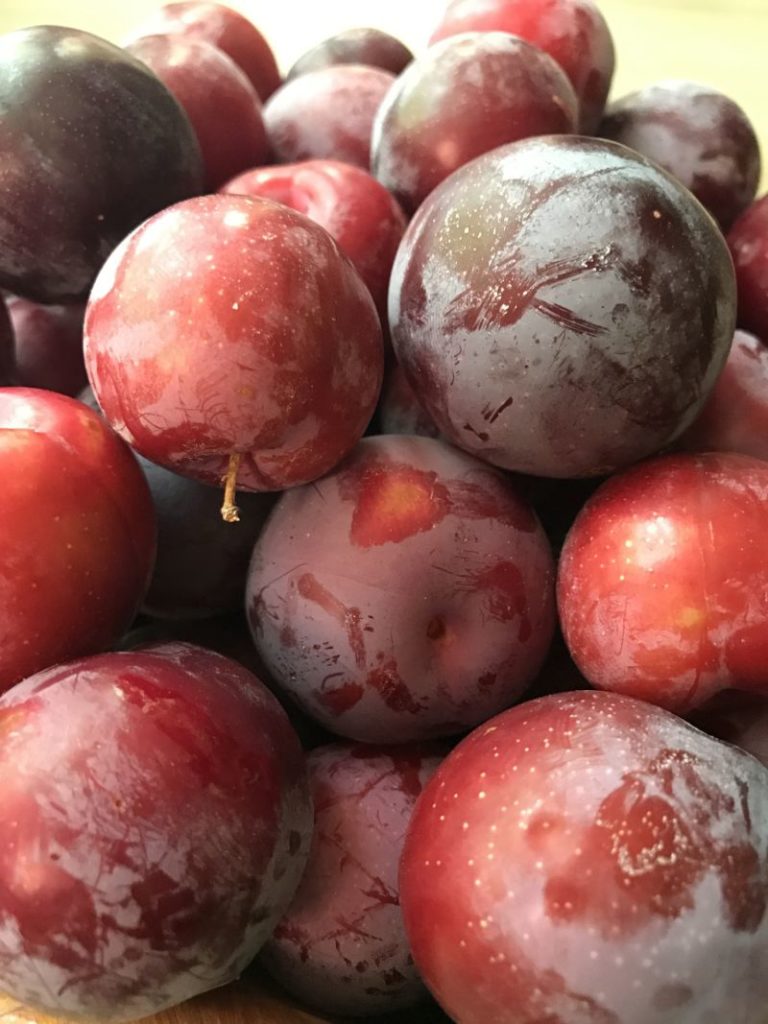 Where we lived when I was young child, wild blackberries and raspberries grew in the woods behind our house and along back roads near our little neighborhood. We picked berries with my mom each summer, eating more than we plopped in our buckets that, just a week earlier, my dad had used to wash our cars (no fancy berry baskets in our house!). My little sister and I complained between berry bites, as I recall, but there were NO complaints later when my mom made homemade jelly and pies with them!
This Easy Jalapeno Cinnamon Plum Jam takes me back in time, and it is oh soooo good on everything from toast to scones to crackers with a little goat cheese on them. It's also perfect for thumbprint cookies.
When I developed this recipe, I loved the plain plum jam I was creating but thought it needed a little more depth. I pulled a half-cup out of the pot and added some cinnamon. Yum. But what if I also added some jalapenos, I thought. So I pulled out half of the small cinnamon jam sample and placed it into another bowl, where I added some chopped jalapenos (not too much … just a little). And YES, that was the best version! I made my taste tester do a blind taste test between the three, and he liked the Jalapeno Cinnamon version the best too. So the rest of the pot got made into the winning recipe below! If jalapenos aren't your cup of tea, just leave them out (but add the little bit of cinnamon — it gives the jam a little oomph in the flavor depth department).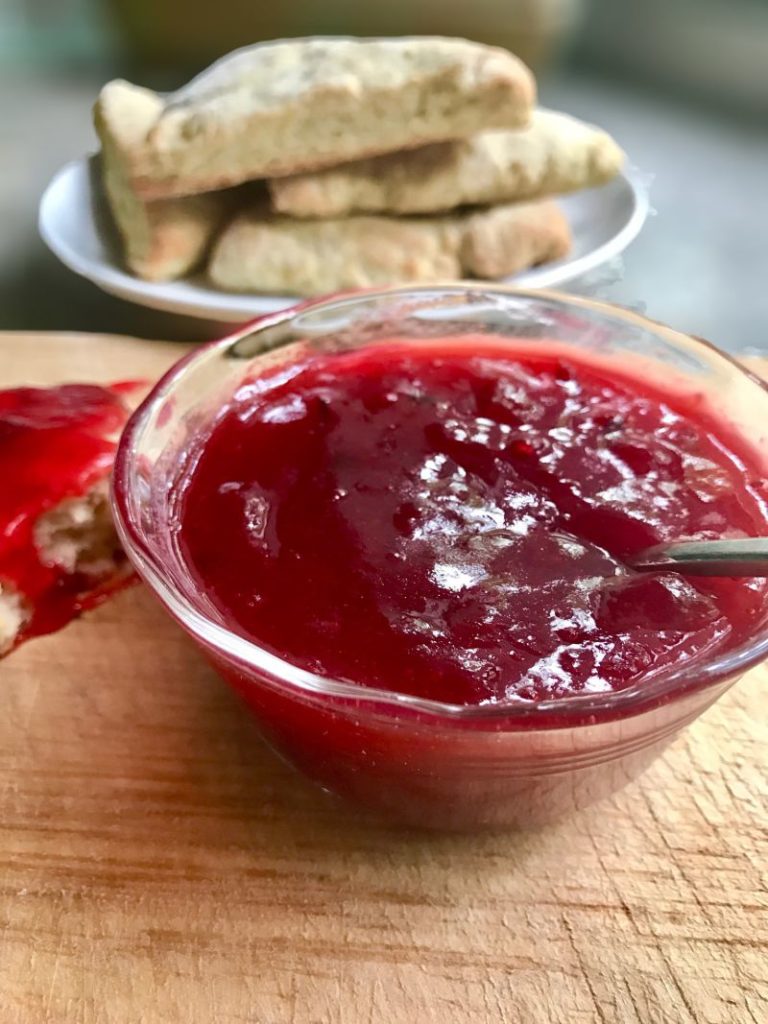 This plum season, when you see delicious plums for sale … or have a plum tree yourself, give this recipe a try! Even if you've never made jam or jelly before, you'll be glad you did. You'll be surprised at how easy it is too …
Pin it/save it!

What can you do with leftover jam? You can use it to make thumbprint cookies, using my Lemon Almond Wine Cookies.
This jam is also delicious on top of some goat cheese and crackers and my homemade dairy-free cornbread!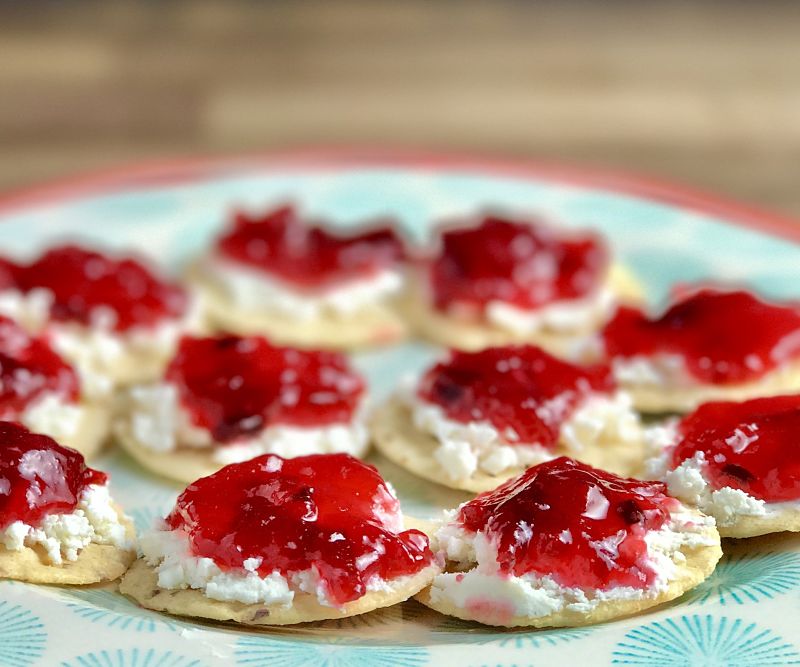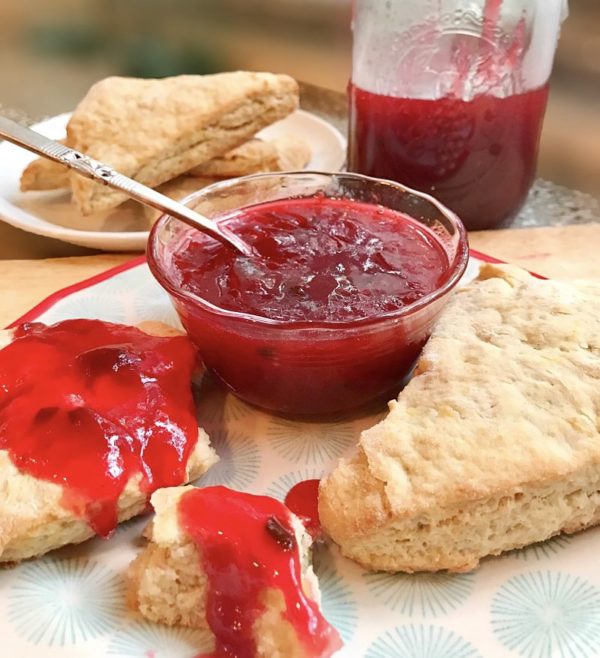 | | |
| --- | --- |
| | |
Wash the plums; if you prefer, you can peel them. I peel some (the ones that seem to have tougher skin). But the skin ends up being the sweetest, most delicious part of the jam (in my opinion). They're like little bits of candy ... so I don't recommend peeling all of them.

Chop the plums into pieces, removing the pits and any soft or really mush parts

Place all of the plums in a large pot on the stove on medium heat and mash (I use a potato masher)

Add the 1 1/4 cup sugar and 1/2 Tbsp lemon juice, then turn up to medium high-heat

Add the pectin and bring it all to a boil

Add the 1/2 cup of sugar and bring to a boil again, stirring constantly while boiling for 1 minute. Then add (if desired) the cinnamon, jalapenos and jalapeno juice. Taste and adjust heat to your preferences.

Turn down to low and test your jam to make sure it has thickened enough. Each batch can vary a little because plums (any fruit) can vary in terms of juiciness and sweetness. One method to test is to use a metal Tablespoon that has either been in the freezer or sitting in a glass of ice water. Scoop out a spoonful of the jam using the metal Tablespoon and let it cool to room temperature. Then take a half spoonful of the mix and let it cool to room temperature on the spoon. If it thickens up to the consistency you like, it's ready. If not, then mix in a little more pectin and bring it to a boil again for 1 minute.

When making a small batch like this, I store my jam in the refrigerator in a large, sanitized mason jar. Some resources say it lasts 3 months in the refrigerator; others say 6 months. Mine doesn't last long enough to test either. 🙂 Sugar is a preservative, so higher sugar jams will last longer ...

Serve the jam on your favorite scones or toast. Enjoy!
This jam is also delicious with my Lemon Almond Wine Cookies, made into thumbprint cookies (or simply spreading some on top of the cookies).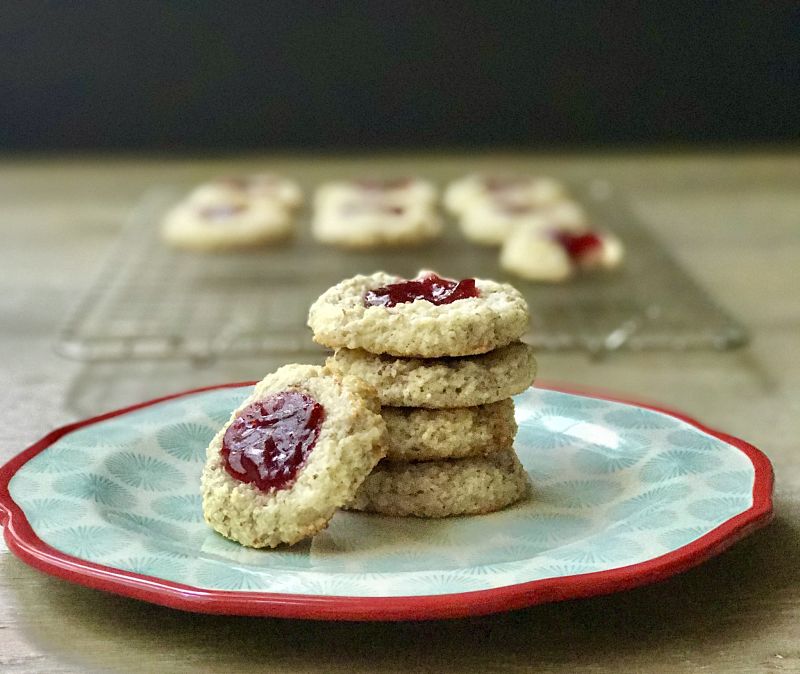 © Kitchen Gone Rogue. www.kitchengonerogue.com