Cauliflower in a bag, already "riced" may be the single best low-carb invention ever! It puts the easy peasy in this Easy Creamy Dairy-Free Cauliflower Rice!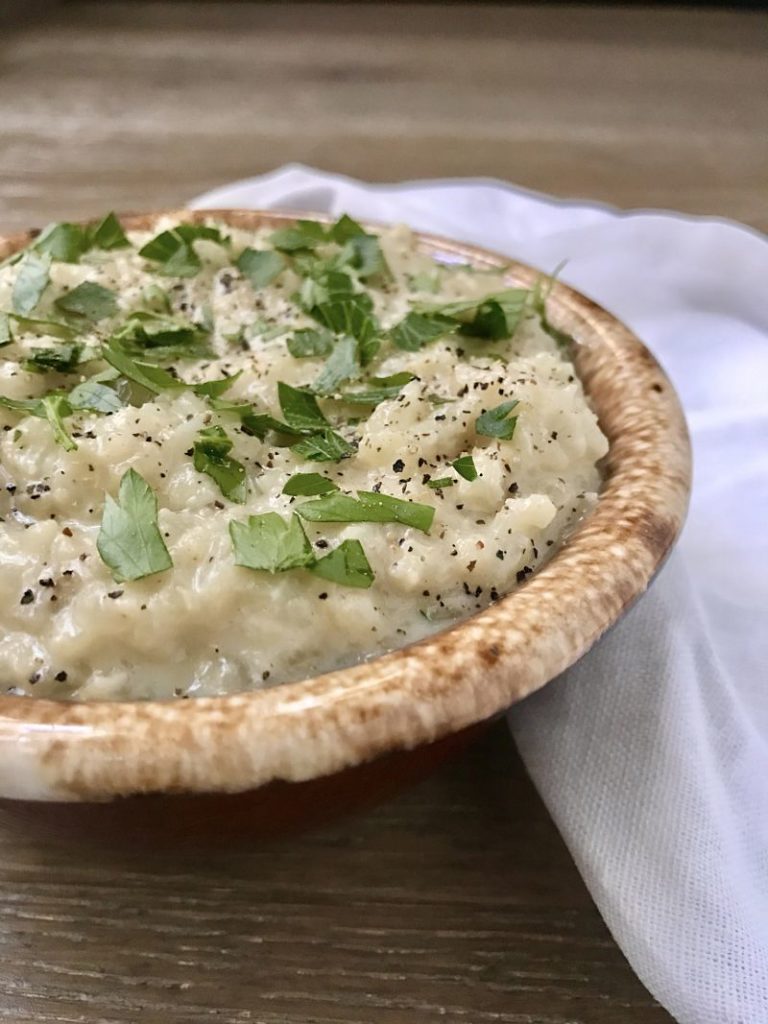 This creamy cauliflower dish is one of my husband's favorite sides that I make. He is super picky when it comes to food. And he does not share my dairy allergy, so he can easily taste if a dairy-free recipe tastes … well … dairy-free. Nothing makes it on this blog if he doesn't like it, unless it's something he simply doesn't like no matter how it's made (such as salmon, coconut milk-based soups and a few other things).
Not only is this creamy cauliflower rice delicious, but it's also easy. And low-carb. And vegan (unless you sub out the non-dairy ingredients for dairy).
The best part? It feels and tastes like you're eating a high-carb side dish. But without the guilt, so you can pile it on your plate! 🙂 And even go back for seconds (if there's any left).
I can find the bags of riced cauliflower at most grocery stores these days, from Kroger to WalMart to Trader Joe's. If you can't find it, you can "rice" it yourself in a food processor (or, better yet, ask your favorite store to start carrying the riced cauliflower, also called cauliflower pearls).
It's the perfect side dish for almost any meal, including my Bacon Wrapped Spinach Stuffed Chicken, shown below.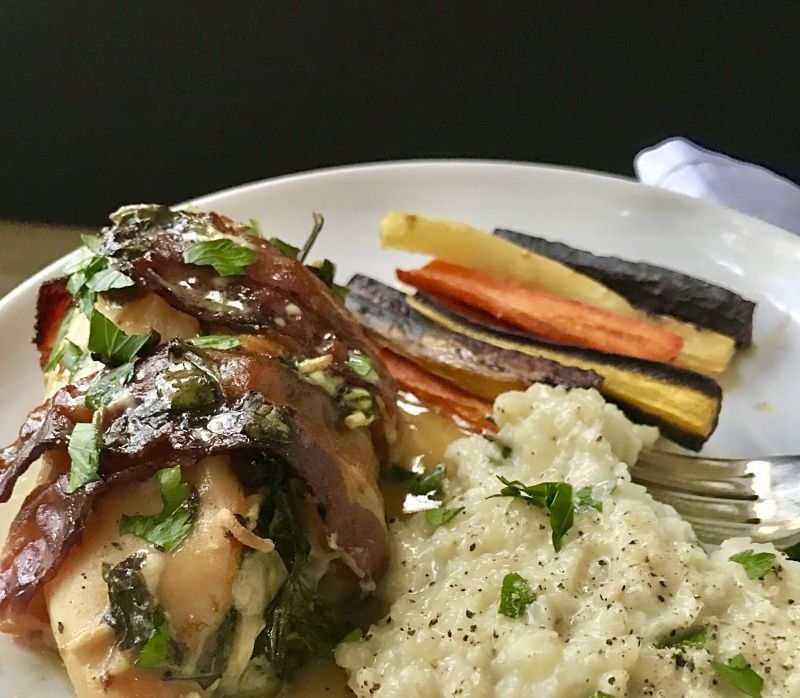 It's also perfect for Meatless Mondays (or any other meatless day). In the picture below, I made it with my Grilled Zucchini "Fries" one night (recipe to come).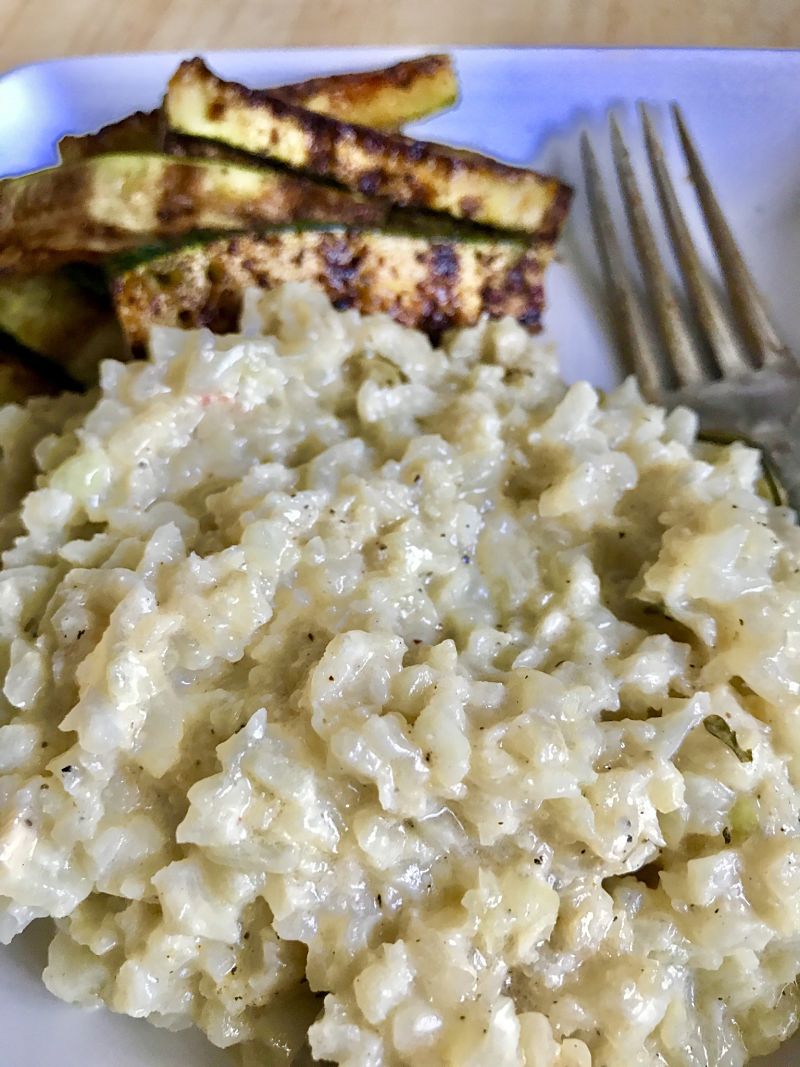 Pin it/save it and make it! 🙂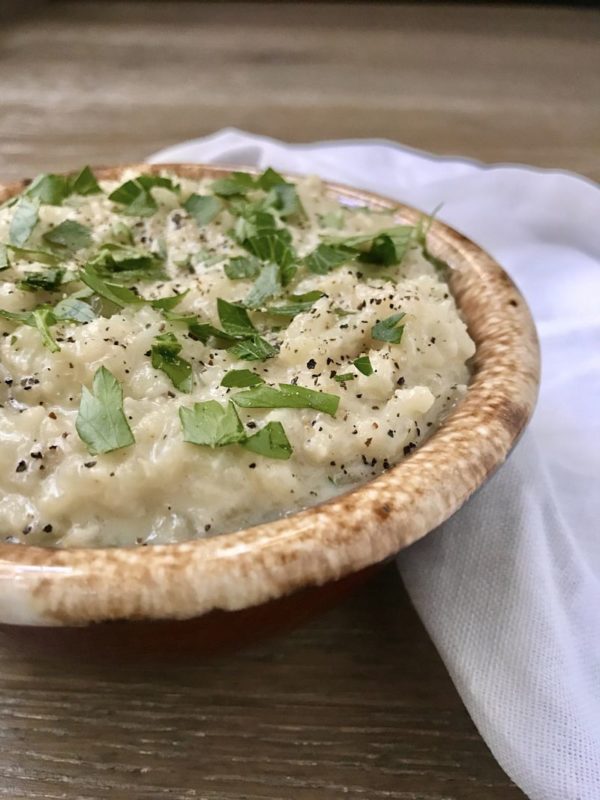 | | |
| --- | --- |
| | |
Heat olive oil in a nonstick pan on medium high

Pour the whole bag of cauliflower pearls into the pan; saute until lightly golden (5-7 minutes)

Add the water and bring to a boil, then reduce heat to medium low, cover and cook for 5 minutes

Uncover and cook 2-3 minutes or until water is gone

Stir in the butter, cheese, salt, pepper and garlic powder until cheese is melted. Taste and add any additional salt and pepper to your preferred taste. Top with chopped parsley. Enjoy!
© Kitchen Gone Rogue. www.kitchengonerogue.com